I am selling a townhouse I bought zillions of years ago to the single woman who has been renting it for two decades. Yes, this plan hatched between the two of us slightly slower than the speed of light. Regardless, the closing is approaching and I am seeking an appropriate gift to congratulate her on the long overdue purchase.
When I needed an idea and performed a Google search, all kinds of fun and interesting things appeared. I still had not decided on that gift, but I got plenty of information for this article!
For example, HousingWire reports single women have been buying single family residential homes at twice the rate of single men over the past year. Excellent!  But check THIS out from that same source:
""Despite having a much lower income ($55,300) than single male buyers ($69,600), female buyers made up over double the amount of men (7%)," NAR Chief Economist Lawrence Yun said."
"However, while men may be slower to enter the market, homes owned by single men have a 10% greater value, and appreciate 16% more than homes owned by single women, according to an analysis released by RealtyTrac."
Ugh. That information may have inspired material for a future blog. But I digress.
As reported in realtor.org, our "Friends at MGIC" provided this informative chart: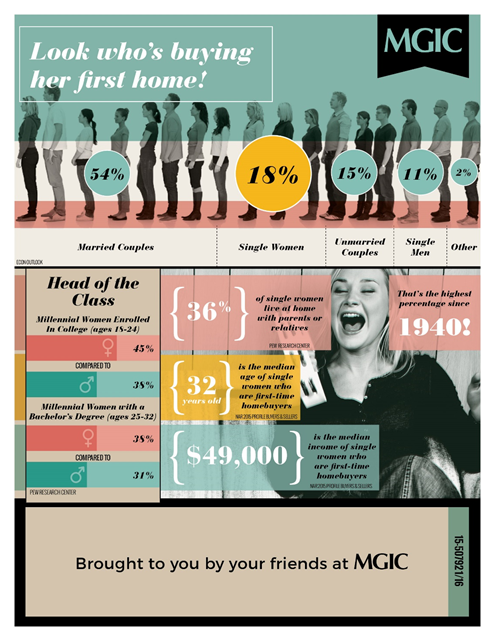 Here are some accompanying stats from that same linked source:
"Fifteen percent of recent home buyers were single females, and 9 percent were single males.
More women (15.5 million) than men (11.8 million) lived alone. Among these, women were more likely than men to own their homes (56% vs. 47%).
About one-quarter of the nation's nearly eight million single mothers spend more than half of their incomes on housing, compared with one-tenth of households headed by single fathers.
Over the time period of 1994-2002, the number of unmarried females owning homes climbed from 13.9 million to 17.5 million.
Sources: 2015 NAR Profile of Home Buyers and Sellers, (Chicago, IL: National Association of REALTORS®, 2015) and The State of the Nation's Housing: 2012 (link is external), (Joint Center for Housing Studies at Harvard University, 2012)."
So, let's agree that my townhome buyer is part of the new trend – single women buying their first home, or SWBH because this is real estate/mortgage related, so there MUST be an acronym!  Mortgage Sales Directors – gear those first-time homebuyer seminars to SWBH! Realtors, invite SWBH when you publicize open houses! Mortgage Loan Officers, ask your friends, family and sources for potential SWBH names and contact them! People who have held on to townhomes for decades, consider selling them to SWBH! Opportunities abound.
Why is this happening? The apparent reasons are related to women's increasing income and desire for investments, high rental prices, and passion for power tools (the last one is a joke!).
Quicken loans did some research and posted,
"When asked why she was in the market for a home in Houston, JaMés Phillips, a single woman, replied, "I want to give myself the stability, the investment, and the legacy. I am pursuing purchase now because the rental market is worse than ownership, in terms of expense, without the write-off and sense of pride or personal rule-making."
There are even blogs for SWBH!  This one, the single woman homeowner, offered topics including, "5 Good Neighbor Tips".
But, back to selfish and needy ole me, how can I successfully gift/assist my SWBH?
There are plenty of new and older sites that offer tips on tools for women. For example, sheknows.com suggests this mandatory dozen and even offers brief but potentially necessary explanations:
Hammer – a claw type is good for hanging pictures, banging in a loose nail... and even cracking walnut shells
Screwdriver sets – in both flat head and Philips. A variety of sizes come in handy for mounting switch plates, assembling furniture and tightening knobs
Pliers - slip-joint, needle nose & diagonal (I like the diagonal for cutting artificial flower stems)
Wrenches – crescents, vise gripping and a hex key set
Level – (torpedo) the only way to hang that artwork straight
Measuring tape – 16 foot, bright & easy-to-find with belt clip
Wood saw – helps trim excess boughs off the Christmas tree
Utility knife – select automatically retractable blade for safety
Plunger – essential for clearing clogged pipes
Flashlight – plug-in, with rechargeable lithium battery
Utility Stapler – comes in handy for recovering seat cushions
Cordless power drill – 14.4 volt variable speed drill/driver
Problem: while my homebuyer may or may not own these staples of DIY repair (pun intended), I am totally certain she is not able to use them, regardless of the color. Yes, Amazon and others offer tool kits for women in, of course, pink. Check this 4.5-star item, for example: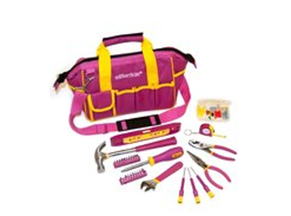 But pink or not, I still had not found what I sought. Let's next take a look at the UK's version of tools women need as blogged in DropBy. I would have preferred the Monty Python version, but please use your imagination and read this aloud, with a British accent.  I've added some snarky editorial comments to a few.
"Kitchen Tools
Household trolleys – these trolleys make great table surfaces but they also make it easier to carry crockery and dishes to and from the kitchen. They are perfect for lone living or for a house with regular guests. You will be surprised at how easy it is to get around with a household trolley table. If you need more help with mobility, visit the National Mobility Service (NHS) website. [It took me a second or two to stop imagining a train running through a tiny English cottage.]
Electric can opener – make life easier with an electric can opener. Save your strength and avoid accidents in the kitchen with this wonderful electric tool.
Angled knives for cutting/carving – for extra safety in the kitchen, use an angled knife to cut and carve. This style of knife has been designed to provide better grip and to make cutting infinitely easier.
DIY Tools
Lightweight claw hammer – every household needs a hammer and the best hammer to own is a claw hammer so you can remove as well as install nails. Choose a lightweight hammer with good grip.
Screwdriver set – keep a set of screwdrivers handy for any furniture or equipment in the home which may become loose or unsteady.
Measuring tape – whether you are fitting a new curtain pole for your living room or rearranging your furniture, it's important to know how much space you have. A measuring tape is an essential item for the single ladies toolbox.
Household plunger – no household should be without one. If you have a clogged sink or toilet, don't rely on the neighbor or have to call the local handyman; a simple plunge with some supermarket sink un-blocker liquid is all you need. [Of course – supermarket sink un-blocker liquid. I forgot the English don't automatically use the brand name for ever item created – Drano, Kleenex, Coke – as opposed to the infinitely more descriptive role/name of each.]
Flashlight – in the case of a power cut, you should always have a flashlight or torch handy. Be sure to keep candles and matches handy too so you can keep your home lit up when your area is experiencing a powercut. [Torch???]
Personal Tools
Spectacle repair kit – we all know that our sight is everything and when old age brings short or long sightedness, we have to make sure our glasses are within reach at all times. A glasses repair kit (with mini screwdrivers and screws) is essential to everyday life. [Now HERE is something I had not considered! Oh wait, my home buyer does not wear glasses.]
Step tools – a personal step tool is essential for safety if you need to reach into high shelves or cupboards. This simple aid will make tidying and cleaning much easier and can be used in any room within the house." [Step tool, not step stool? All these years I've been saying it incorrectly!]
I may have the most warped sense of humor ever. Just the fact that a "spectacle repair kit" was included here made me laugh. No, just the fact that the word spectacle was used instead of eye glasses brought on giggles.  Apologies for my latest digression.
Perhaps slightly more helpful to SWBH might be articles like this one from This Old House, "Tips for Single Women Homebuyers". Included are possibly unconsidered things like avoiding unfair treatment and ways to better protect themselves (security system, testing mass transit with a friend prior to home purchase, etc.).
Alas, as tempting as the trolley and security system ideas were, I was still not convinced I had found a suitable gift. Finally, I remembered a terrific anecdote, courtesy of  Tony Meola, a former boss of mine. The answer became immediately obvious.
Early one January, Tony told us he had received the best Christmas gift ever – a Sears Craftsman tool chest! Several of us remembered stories of some major DIY FAIL efforts he had previously told us about, so we were curious. But Tony explained his wife had given him the largest ever tool chest and lined every single shelf with business cards – for plumbers, electricians, painters, etc. Perfect. Off I go …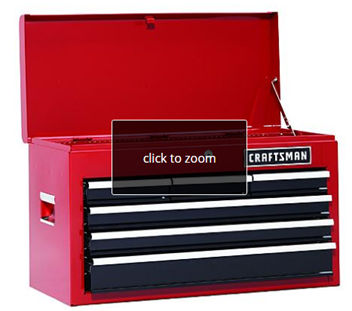 A small gift for you:
Some enthusiastic members of the English Chess Federation checked into a London hotel and stood in the lobby discussing their recent victories. After an hour, the hotel manager asked them to disperse.
"But why?", they asked.
"Because", he said, "I cannot stand chess nuts boasting in an open foyer!"