How will Brexit effect the mortgage industry and housing market? Unless you are a life-long learner and incessant seeker of information like me, you can stop reading now. What? Yes, that's right. Here's why. We just don't KNOW what effects Brexit will have on the mortgage industry, at least not yet. Let me prove that via these headlines:
Mortgage Lenders Already Feeling the 'Brexit Benefit' (National Mortgage News, 6/24/16)
8 Ways Brexit Could Directly Affect You and Your Money (Motley Fool, 6/27/16)
Brexit, Shmexit! U.S. Housing Industry Not Worried (National Mortgage professional, 6/24/16)
How Brexit could push mortgage rates to historic lows (Washington Post, 6/24/16)
Will Brexit make mortgages more expensive? How quitting the EU could affect interest rates (Mirror, 6/24/16)
#Brexit: Here is the immediate impact on U.S. mortgage and housing finance (Housing Wire, 6/24/16)
And for additional validation of my position, look what happened BEFORE the Brexit vote. Did rates go up, down or sideways??
Mortgage rates rise ahead of Brexit vote (Bankrate, 6/23/16)
Mortgage Rates Hit a New Three-Year Low as Brexit Looms (Forbes, 6/20/16)
In short, we simply do not know what long term effect Brexit will have on mortgage rates. We don't even know if the UK will hold an additional vote to reverse this decision. On that, you have to love this story:
Man Who Voted for Brexit Is 'A Bit Shocked' His Vote Counted, Is Now 'Worried' (The Slot, 6/24/16)
But there are things we do know. For example, the stock market went a bit Brexit berserk.
Dow slammed again on 'Brexit Blues,' drops 260 points (USA Today, 6/27/16)
Brexit Effect Ripples Through Emerging Markets (Wall Street Journal, 6/27/16)
How Brexit could stress out markets this week (CNBC, 6/27/16)
Brexit turmoil deepens: Dow down nearly 900 points in 2 days (CNN Money, 6/27/16)
And as always, at least one sector already made huge gains as a result of Brexit – the media, including or especially social media.  Check out, for example, these Brexit tweets.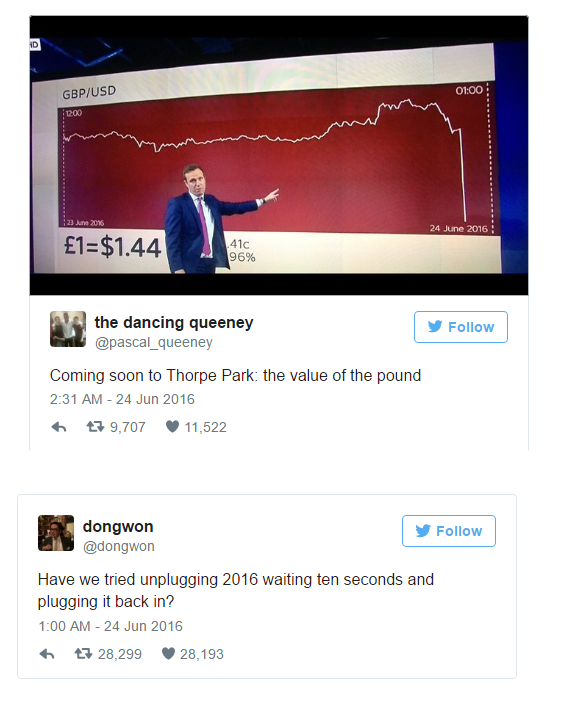 But with all of this tumult, there is now a possibility that England will add a new referendum and re-vote on Brexit. I love it! It would be just like a real-life escape key! Telegraph stated., "A petition on the parliament website calling for a rerun of the EU referendum has gathered 3.7 million signatures since the referendum result at the end of last week."
Or, it has been opined that they may choose to simply ignore it.  CNN reported, "Theoretically, the government could ignore the result, although doing so would presumably prompt an angry reaction from the 52% of Brits who voted to leave.
"The referendum doesn't itself trigger Brexit," said Kenneth Armstrong, professor of European law at the University of Cambridge. "It still requires the decision of a government."
Specifically, a Brexit requires the UK government to invoke Article 50 of the Treaty of Lisbon, the EU legislation governing a potential breakup."
In summary, then, how will Brexit effect the US mortgage industry? Here are the educated guesses currently being presented:
-Interest rates may lower. The Detroit Free Press, for example, believes, "While most Americans don't particularly care whether or not Britain is part of Europe, they do care about the U.S. housing market and mortgage rates. If you are wondering if the Brexit vote could impact either, it already has. Uncertainty surrounding the Brexit vote was likely one of the main drivers behind the Federal Reserve's decision not to raise U.S. interest rates in June."
-Your retirement account may have dropped due to the stock market volatility and, therefore, you may have less wealth. This is directly correlated to home purchases and sales. And there may be indirect effects, Forbes explains, "Luxury sellers in particular will feel pain. Foreign buyers consider U.S. real estate a safe investment and have been parking cash in Miami, New York and other cities. Some of them probably are shopping for high-end condos right now, but with stock markets losing value, there's less wealth to go around."
-Your home value may increase if you live in a major Metropolitan market. Forbes explains why. "Britain's exit from the EU could lead to added demand for American real estate, especially in major cities like New York and Los Angeles. According to KC Sanjay, Senior Real Estate Economist with Axiometrics, "International investors have been increasing their holdings in the U.S. over the past several years, as they have gained a better understanding of the American apartment market and appreciation of the sector's profitability."
And that means that investors are primed to look at the U.S. real estate market as a reasonable alternative to the London market, which has long been a haven for the global rich to stow their excess wealth."
-On the flip side, the much sought-after Millennials may be priced out of some markets. The International Business Times wrote, "First-time buyers are struggling to get into the market as it is. If more foreigners, typically cash purchasers, get into the market, they will face stiff competition to get their properties," Yun said. "Typically younger purchasers need a mortgage. If they have to compete with foreign buyers with all cash, that hinders first-time buyers from getting their home."
-Mortgages will remain more difficult to obtain than in the past. In other words, Brexit will certainly not result in any "easing".
-Home sales may take longer to sell and close due to public "jitters".
-The same is obviously true for home purchases.
-It may be, once again, a great time to refinance. According to Construction Dive, "One market expecting a Brexit-led boon, however, is the mortgage refinancing industry, which is poised for an expected glut of applications due to low interest rates."
-Oil prices are also on a slippery slope (sorry, poor pun). Movement Mortgage posted, "In the days leading to the Brexit vote, some analysts rebuffed notions that Britain's leaving the EU would directly affect oil prices. But, they warned, market sentiment could take a hit.
By Friday morning, crude oil prices in global markets began to tumble, with some observers saying prices may continue falling in coming months as investors who bet on higher oil prices retreat. Others say the fluctuations could stabilize since the U.K. is not a major player in the global oil market."
As noted in Trulia's Blog, this could all be temporary (which is why I had to write this blog so quickly!) ☺ "While the departure of the UK from the European Union has driven down the 10-year bond, and thus mortgage rates, we expect them to rebound later in the year as uncertainty over the economic consequences of the departure lifts," McLaughlin said."
Therefore, in a combined tribute -- such as it is -- to both Brexit and LeBron James of the NBA Championship Cavaliers, let me end with this:
"When I was 5, some financial things happened, and I moved seven times in a year. We moved from apartment to apartment, sometimes living with friends. My mom would always say, 'Don't get comfortable, because we may not be here long.'" ~ LeBron James