… like a fine whine
… I get better with age.  SO sorry to completely annihilate an excellent and often repeated quote. ["I'm like a fine wine. I get better with age. The best is yet to come." ― Richelle Mead] But my version seems more appropriate for this blog. And Happy New Year!!
Let me get right to the point. Over and over again, you'll read that loan officers are too old these days. Mortgage pros everywhere whine about it incessantly. They need rookie programs, they need to recruit younger LOs, they need to retire the older LOs and promote their younger assistants. So as instructed by Simon Sinek's book, "Start with Why: How Great Leaders Inspire Everyone to Take Action," let's dig into the why and see if the responses seem valid.
Average Age of MLOs
In numerous articles, the average age of mortgage originators today has been posted as anywhere from 46 to 60 years old! Yes, 60! Those poor ancient relics out pounding the pavement for their last dollar! Not quite. It's so disheartening to hear comments like, "Those old LOs must stink because if they were any good, they would have made enough money to retire by now."  Can you say, "mortgage meltdown"?
Or how about this one? "Older LOs are lazy and only want deals handed to them."  Really? I personally know tons of LOs who market like crazy, visit sources of business nearly every day, and fight to make tough deals close to help people get into homes. Lazy? Not most of the ones I know.
Hmm, there is obviously a perception disconnect. Imagine my glee, then, when I encountered this!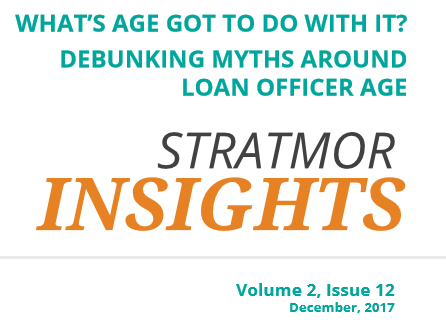 Stramor is well respected in the mortgage industry and I liked the pithy title for sure. So I dove right into this.
I liked SO much about this article, I shall endeavor to summarize some of the contents. And, before going there, let's discuss one perspective taken by Stratmor. Essentially, what difference does it make how old mortgage loan officers are? What matters is that they are taking and closing loans from satisfied customers, right?
And further, shouldn't loan officers' ages mirror the age of people buying homes? And if we want and need much younger loan officers, where can a college freshman major in "Mortgage Loan Origination" anyway?  Stratmor answered these and other related questions. Hint, the correct reply to that last questions is, "They can't." We'll go through some Stratmor data first and then I'll offer some "counterpoints." Or, you can just skip to the comics at the end if this topic doesn't fascinate you as much as it does me. 🙂
For those of you I am certain were wondering, here is the US population by age group: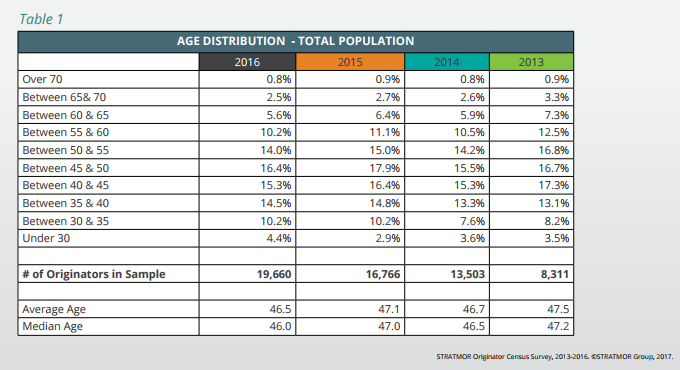 I'm sure you noticed the largest group is between 45 and 50 years old, followed immediately by the second largest group. So then how does this compare with the loan officer "population?" That is illustrated below and includes a delineation of originators who work for a bank and those who work for independents.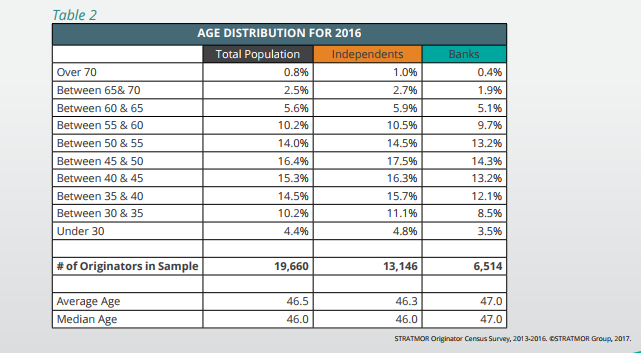 Seems like a good match to me! The common range is age 45 to 50. The article goes on to document that LO ages correlate directly to refinance borrowers' and all purchase borrowers' ages except First Time Home Buyers. Further, they show that people are satisfied with their loan officers, and that does include the younger First Time Home Buyer group.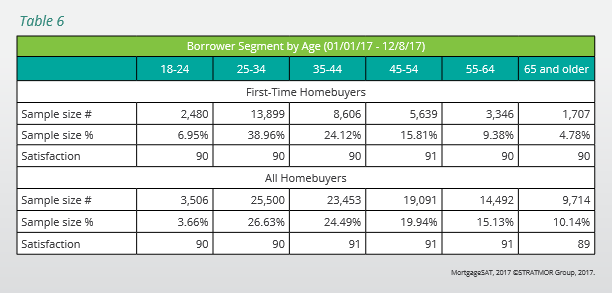 So, indeed, what's age got to do with it? And now, I have an earworm, "What's love got to do with it?" I need gum! Let's have a brief sing-along break while I find some ….
I'm back and chewing away. The Stratmor article goes on to discuss loads of other relevant, interesting, and mind-changing data. BUT, I have decided to save some of that for a later blog. No spoiler alerts will be furnished! We're moving on to counterpoints.
If you're like most people in the mortgage business, you think people work with people they like and they only like people who are like them. Challenge, can you compose a sentence that uses the word like more often than I just did? Sandler Training did not even come close in their headline, "People Buy from People they Like."
But what they really concluded was that people feel better working with salespeople who understand and meet their needs. So I guess we can say that we like people who understand and meet our needs and that doesn't have much, if anything, to do with age.
Who People Buy From
I like one point made by IEC in, "Customers Don't Buy From People They Like, They Buy From Those They Trust." They stated that people typically don't buy from people they dislike. I agree and can add that's true at any age! Ha
In my continued attempt to define who we will happily buy from and to determine if age factors into that, I found this from inc. in, "3 Little Known Sales Secrets." They state:
People buy on emotion and back-fill with logic.
People like to buy, but no one likes to be sold.
People do business with the people they know, like and trust.
All of those seem logical and easy to agree with. But, again, I don't see the word "age" anywhere.
The only possible and minimal issue with age that I could identify might be with First Time Home Buyers and older loan officers. So who are these First Time Homebuyers? The New York Times knows and provides a slick chart adapted from the NAR to tell us exactly who they are. Here is a part of that.
By the New York Times
Wait a minute! We're talking about Millenials again! Click the preceding link as we covered that topic already!
There's a mountain of info on why all lenders should attract millennial LOs (like this from DataTree). Here's the reality. A company never has a complete and stable sales force-- people retire, they resign, they get promoted or demoted … Therefore, sure, all mortgage companies should recruit millennials and Gen Xers and Boomers and etc. And, as indicated by this Scotsman article, "Prepare for a Changing of the Guard," they better hurry. "The mortgage industry will need to replace at least 200,000 originators over the next 10 years as older professionals retire and younger ones enter the workforce."
And do they hire people of a certain age? Perhaps they recruit from a specific race, culture, sex or experience background.
In MBA Insights, "Is the Mortgage Loan Officer Obsolete?", these insights were included:
"... Patty Arvielo, President of New American Funding, Tustin, Calif., seems puzzled by how slowly the industry in general has reached out to underserved markets, including the Hispanic market, the fastest-growing homeownership segment in the country
"You have to look like the people you serve," Arvielo said at an MBA Annual Convention breakout session on reaching underserved borrowers. "Five years ago our business was pretty 'white.' Today, our top producer is a Latina; our second-best producer is a woman; our third-best producer is a Latina; our fourth-best producer is a veteran. You have to be the face of who you serve."
Arvielo and her husband, Rick, founded New American Funding in 2003; last year, the company closed more than 33,500 loans and funds on average $1 billion in loans per month. The company has 130 branches and 2,300 employees, of which 57 percent are women."
In that same article, Clara Shih was quoted as saying,
"Today's borrowers also want a mix of digital (multi-channel) and traditional, Shih said.  … And it's not just about being on Google; it's the opportunity to engage digitally across the lifecycle. Referrals; birthdays, anniversaries; It's an opportunity to engage as part of the human relationship dynamic."
So that would lead us to believe technology talent is key. Many of you may think that, once again, implies an age requirement. But I know many LOs in their late 50's, 60's and even 2 in their 70'2 who are incredibly technology savvy.
What's age got to do with it, then? Zippo, nought, goose egg, zilch. It appears that effective Loan Officers understand and use technology effectively, can be and are trusted, uncover and meet needs, and form positive emotional relationships with people. Funny, I just realized we'll probably never see a politician become a loan officer! 🙂
Let's End on a Laugh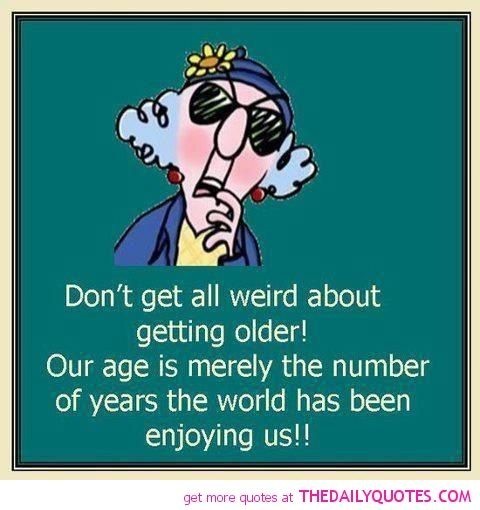 The secret of staying young is to live honestly, eat slowly and lie about your age. - Lucille Ball
I'm 59 and people call me middle aged. How many 118 year old men do you know?
- Barry Cryer
You can live to be a hundred if you give up all things that make you want to live to be a hundred - Woody Allen
People ask me what I'd most appreciate getting for my eighty-seventh birthday. I tell them, a paternity suit - George Burns
Time may be a great healer, but it's a lousy beautician - Anonymous
An archaeologist is the best husband any woman can have: the older she gets, the more interested he is in her - Agatha Christie
I don't do alcohol anymore - I get the same effect just standing up fast - Anonymous
Old age isn't so bad when you consider the alternative - Maurice Chevalier
The idea is to die young as late as possible - Ashley Montagu
None are so old as those who have outlived enthusiasm - Henry David Thoreau