My Thanksgiving holiday is always associated with that held-in-hostage moment where no one can eat until every person has stated what they are most grateful for. This year, I may say that I most appreciate knowing every blog reader here is fully aware that I was KIDDING when I included the held-hostage reference! I actually love being grateful and expressing that.
But my editor's research has shown that you, nutsy readers, appreciate humor much more than sappy sentimental gestures of humanity, appreciation, or anything resembling human kindness.  After all, you are in or have interest in the mortgage business and those listed traits are N/A to mortgage people. I am joking again ... mostly, ha ha. Let us dig in to what appreciation means in the mortgage business.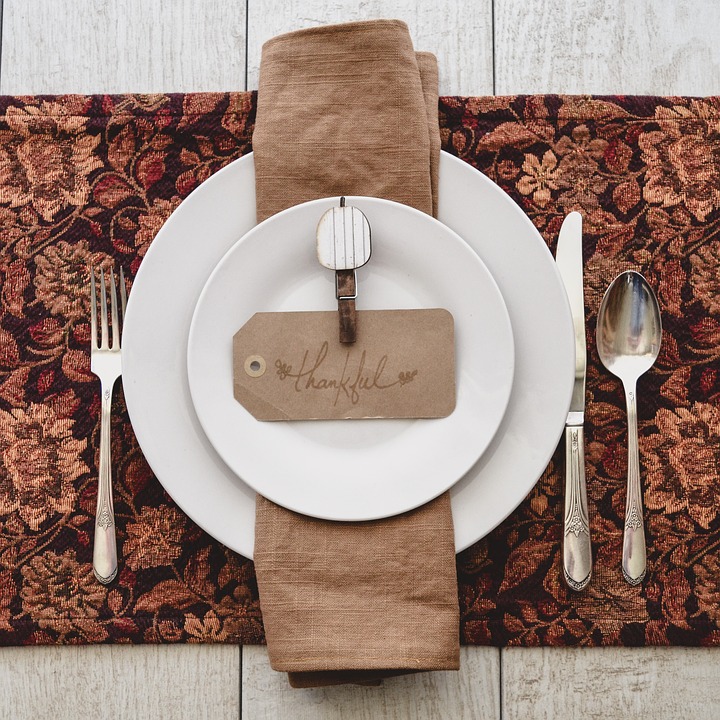 Let's Be Thankful
A 2016 LinkedIn piece asked, "Loan Officers! What Are You Grateful For?"  The answers included such things as: autonomy, work freedom, pay for performance, the culture in the office, the available resources etc.
Did you notice that not one of them said "the best rate" or even "how much money I make," although pay for performance comes close to that. However, I spoke with a very senior mortgage manager today who runs most of the country for a large lender. He asked me to help him recruit Loan Officers. I asked him what he defined to be the "hook, the sizzle, the best part of working at his company as a Loan Officer." He said, 'We pay the highest commission and our conventional rates are the best."  Hhhhuuuullooooo
Years ago, Sandy (an excellent Underwriter) and I were debating a loan file. I used the old, "They have good credit!" argument. She replied, "No, that's got to be a given in every file. It's never a compensating factor for slights or problems."
I think of good compensation and good rates as the same thing-- givens. No company will ever have the best rate on every single loan product. And with how rates change lately, that might not matter anyway. Read this.  And, let's face it, no company will ever consistently offer the best compensation to all employees either.
However, all companies should offer 'good' rates and 'good' compensation because, otherwise, what? You only hire masochists? 🙂 What all companies should also do is provide the type of environment where loan officers (and everyone else) can thrive.
I'm very grateful for the hundreds of people who took the time to teach me--what to do and what not to do--who trusted me with some small and some very large areas of responsibility, and who gave me the opportunity to thrive as a co worker, boss, direct report, coach, or just work friend. My regret is that I am not sure if they even know how much I appreciate having had them in my life. I am very, very lucky. And that's definitely enough of the sappy stuff!
Office Fails
Think of this. What if, yes what if, the most impactful people in my life had been mostly complete idiots? I've encountered a few and once threatened to write a book entitled, "Management 007 -- The Worst Leaders in the Universe and the Secret of How They Got Their Job." THAT must have been a cynical and low time along my career continuum.  I think the main thing that stopped me, though, is that the story has already been told, in one form or another.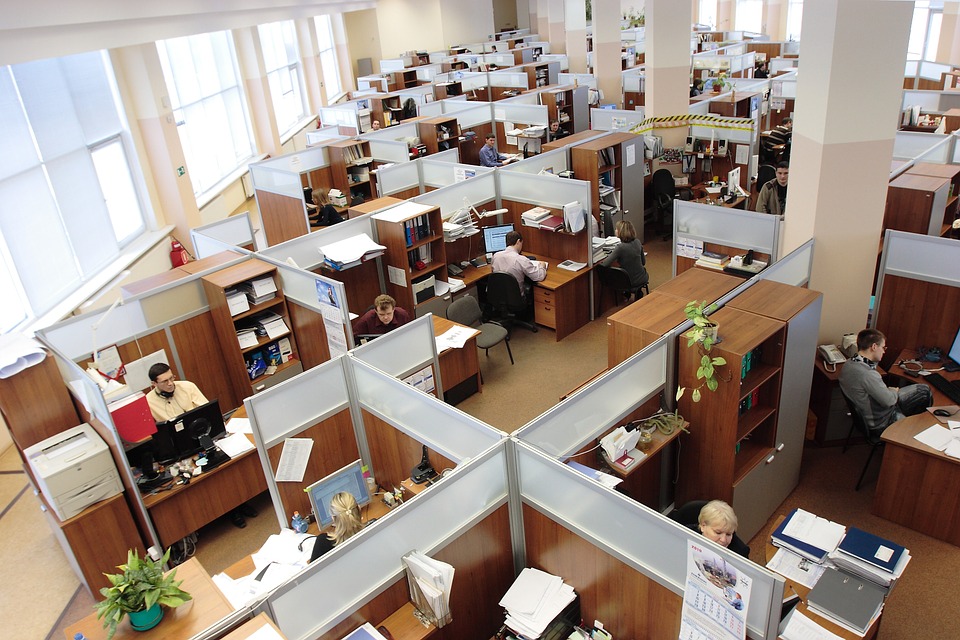 Think about The Office. Just the show synopsis makes me smile … "The Office is a hilarious documentary-style look into the humorous and sometimes poignant foolishness that plagues the world of 9-to-5."
Or how about the Dilbert comic strip (and books and statues and mugs ….)? Specifically, that previous link clicks to an article called, "The 10 funniest 'Dilbert' comic strips about idiot bosses."
To further and finally illustrate my point that the "ship has sailed" on bad manager publications, scan this list:
Forbes: How To Work For An Idiot
CBS News: 5 ways to handle an idiot boss
Huffington Post: How Did That Idiot Become My Boss?
I guess that generates another item on my list of things to be appreciated--that my name does not appear in any of those articles. Oh my, oh my.
As tempting as it is to continue in that vein, this is the "Thanksgiving Edition!" We will now be THANKFUL! Here's how.
Thankfulness Part 2
Although you probably will not see this compilation in Forbes, CBSNews.com, or Huffington Post, let's speculate on what some mortgage people/groups may be most appreciative about this Thanksgiving. Yes, of course I made these up. But who's to say I'm not psychic? Tee hee.
WHO
CURRENTLY
THANKFUL BECAUSE
 Mike Weinbach
CEO of Mortgage Banking, JP Morgan Chase
He did not hold that title at Wells Fargo last year.
Movement Mortgage
Has recently joined the exclusive Inc. 5000 Honor Roll
It's no longer 2008. MM was a four-person startup in 2008, possibly the worst year to even think of starting a mortgage company.
Nerds who love the mortgage business
Mortgage professionals
They just read, "ROBOTS-AS-A-SERVICE IN MORTGAGE LENDING"
Home Builders
Builder Confidence Nears Post Crash High
Its no longer 2009, called the "Worst year for home builders, ever, according to records."
Dan Gilbert
Daniel Gilbert is the chairman and founder of Rock Ventures, Quicken Loans Inc. (and Rocket Mortgage by Quicken Loans), the owner of the NBA Cleveland Cavaliers, the AHL Cleveland Monsters, the Arena Football League's Cleveland Gladiators and the NBA Development League's Canton Charge. He is also the operator of the Quicken Loans Arena in Cleveland, Ohio and chairman of JACK Entertainment (formerly Rock Gaming), which opened its first Horseshoe Casino (now JACK Cleveland Casino) in downtown Cleveland in May 2012. More at Dan Gilbert
It appears the rocket launch was successful, per:
Millennials
The most sought-after mortgage client in the US
Being that client and having nearly every lender trying to determine how to land you.
The marketing firm that suggested the name Mr. Cooper
Formerly Nationstar Mortgage
Well, you tell me …

"... consumers liked dealing with a specific person, whether it was their loan officer, their real estate agent, or another person in the process.

"So we said, we need to personalize this. And it has to be an advocate. It has to be something that resonates every day with our employees, like what would Mr. Cooper do for this customer?" Bray said.
I have a funny story on that last one. A neighbor called me recently to see if I could assist her sister. It turns out the sister had received a letter some months back regarding the sale of her mortgage to Mr. Cooper. She briefly reviewed the correspondence, did not know anyone named Mr. Cooper, assumed it was a gag letter or junk mail, and tossed it. When she received a few more on the same topic, she tossed them as well, assuming she had gotten on some comic's mailing list.
Well, you guessed it. She received her loan payment invoice from Mr. Cooper and, yes, tossed that too. We got her all sorted out and that was easier than I had expected. It seems others have had similar experience with not taking good old Mr. Cooper correspondence seriously.
As (almost) always, I like to end this blog with some laughs. It is MERE coincidence this time that the posts I chose happen to illustrate ineptitude on someone's part. In other words, who was "in charge" when these fails happened?
Thanksgiving moved to FRIDAY?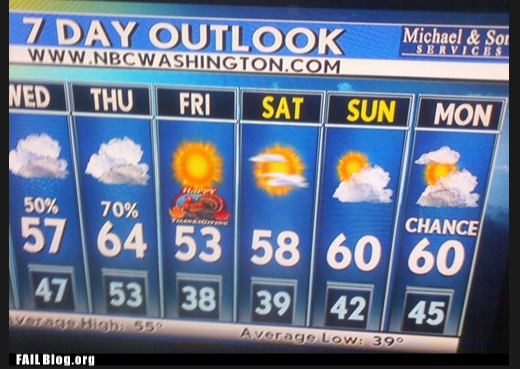 Um, HUH???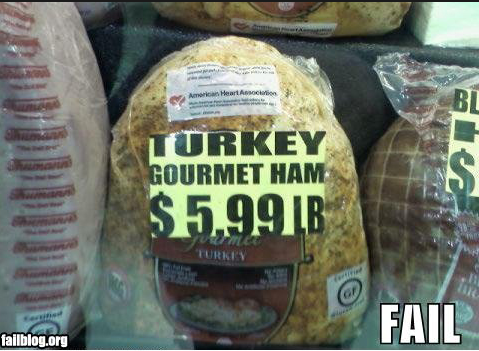 What??
May all the good things of life be yours, not only at Thanksgiving but throughout the coming year. And may you never, ever have an idiot boss.🌝🌝🌝